Biographies
Fiona Ford
Rob Gould
Simon Lind
Nigel Moss
Greg Boulton
Simon Lind. Guitars.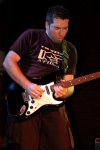 Born in Edinburgh in 1968, Simon's varied musical life started in the mid-80's when he played drums for a number of bands in his home city. He later took up guitar and spent some time gigging on the Edinburgh blues-rock circuit.
He moved to Manchester in the early 90's where he first met Rob, playing in the same band as him. By the mid-90's he had moved to Warrington where he formed a band called "Crossfire". For this band he provided keyboards, guitars and lead vocals, which he describes as "very challenging, but a brilliant experience".
Simon cites many guitar influences - principally Jimi Hendrix and Stevie Ray Vaughan, as well as Joe Satriani, Eddie Van Halen, Adrian Legg, Angus Young, Jeff Beck, Jeff Healey, John Martyn, Robben Ford and Ty Tabor.
A supporter of what he calls "Free Range Music" he describes "the adrenaline buzz of playing live music" as "the best drug going".