Fula News.
Giggage!
There are currently two Fula gigs confirmed as follows
Thursday 23 October 2008, The Eagle, Buxton. Supporting Arilyn
Saturday 8 November 2008, Montgomery Theatre, Wath-on-Dearne. Classic Rock Society gig supporting Credo and Ritual
For more information, please contact us.
Nadeen Returns To Fula
Fula are pleased to announce the the return to Fula of vocalist Nadeen Plumtree (nee Plant). Nadeen left the band back in 1997 due to work commitments but is now back, which is great news for the band and fans alike.
Nadeen co-wrote, with Rob, the majority of the first two Fula cds ('Beyond the Merrygolight' and 'Dark Matter'). Her unique vocal style, stage presence, lyric and melody writing ability has already impacted on Fula, enabling the band to re-launch their sound and new material on the public.
Rehearsals and recordings have already started to take shape, and gigs are now being booked for Autumn 2008.
Fula Return!
After a 2 year sabattical, Fula are to return. Hailed as a "reformation, not a reunion" the long awaited comeback features new members, new material, new gigs and a new album on the way.
Since the critically acclaimed CD The Beautiful, The Delicate and The True was released in 2002, and after a number of live performances, the band was put on ice while individual members concentrated on other ventures. A brief reunion during 2003 - featuring former Fula vocalist Zoe Stafford (the singer on 1999's Dark Matter), and original Fula guitarist Jason Gilman resulted in a number of well-received gigs, and also netted the band the "MD's Award For Best Performance" in that year's Classic Rock Society awards (the inaugral issue of that award).
The new line up still features Fula's founding-father Rob Gould on keyboards, and Nigel Moss on bass guitar. A new drummer and guitarist have been recruited, more information to follow here soon. The band are still auditioning to fill the vocalist role, and anyone who is interested, or who knows someone who may be, should email [email protected].
Keep visiting this site for up to date information!
Important message ó If you have received spam from a fula.co.uk address
A large number of spam emails have been sent out forging our domain name. If you have received such a message, please note that it has not come from us. Read more about this...
Fula Take A Break
Fula is currently taking a break, but that doesn't mean we have our collective feet up sipping a large mug of tea and munching chocolate biscuits! Rob is busy working on his solo work, producing and promoting a new soundtrack for Gavin Newman for his film about the explorations of the China Caves. Fula members past and present have contributed to the recordings, with Fiona adding some soulful vocals, Nigel contributing bass guitar, mandolin and whistles and Jason playing some blistering guitar. Rob has also been doing some work with Brazilian Celtic Prog Rock outfit Ashtar. Take a look at Rob's web site to keep up to date with our founding father's non-Fula activities, and keep stopping by here for any updates as to future Fula outings.
Fula Appearance on Radio Caroline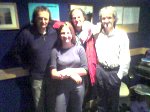 Fula members Rob Gould, Nigel Moss, and Fiona Ford made a guest appearance on the legendary Radio Caroline, Thursday 6th May 2004. They appeared on Rob Leighton's Imagination show from 9pm til midnight. As well as being interviewed they also played live on air for the station. The first piece played was Rob's first solo recording - "Caves of Thunder" - the soundtrack to Gavin Newman's award-winning audio-visual, and this was the first time it had been played live in its entirety. They also played "Behind Cold Eyes", "Nothing" and "Everything" from Fula's 1999 album "Dark Matter". A repeat visit is already being discussed, and appearances and sessions on other radio stations are being organised - watch this space for more information, or join our email newsletter list using the form at the bottom of this page.
Awards!.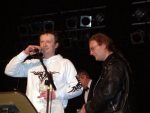 Fula received an award at the annual Best of the Year awards held by the Classic Rock Society on December 6th. The award was the "MD's Award 2003 for Best Performance" and was awarded for the November 1st gig held at Herringthorpe Leisure Centre. ZoŽ Stafford was nominated in the top 4 for Best Female Vocalist, Rob was nominated for Best Keyboard Player, and the band were nominated for Best Gig (as voted for by the members of CRS). Many thanks to all who voted for us.
Fula Gigs - With Special Guest!
Fula have 2 gigs planned. The first is Saturday 20 September at The George, Buxton with members from Strangefish supporting. The second is a Classic Rock Society gig on Saturday 1 November at Herringthorpe Leisure Centre, Rotherham, supporting Strangefish. Both these gigs will feature a very special guest - Former Fula vocalist ZoŽ Stafford at the microphone again! Some of you may remember ZoŽ. She was the singer for the Dark Matter album and we did a number of gigs with her - mainly around the Manchester circuit. Since leaving Fula, she has been involved in a number of musical projects, and recently gigged as a backing singer for the Australian Pink Floyd. A chance meeting in the street lead to renewed contact between ZoŽ and Fula, and we are all looking forward to these two special 'reunion' gigs. We look forward to seeing you there!
New Fula CD Out Now!
The long awaited follow-up to Dark Matter is now available. The album, called "The Beautiful, The Delicate and The True", features around 50 minutes of Fula's original music. The running order includes many songs featured in Fula's live sets throughout the past couple of years, and the package is enhanced by a special bonus CD-Rom section. It costs £12 (Plus £1 post & packing within the UK.) Email us for more information on getting hold of a copy.
New Members.
After the unfortunate departure of long-serving Fula guitarmeister Jason, singer Josie has also now moved on to explore her own sound. But fear not! Step forward new singer Fiona and new guitarist Simon. Read more about them in their new biogs! [Fiona's biog | Simon's biog]
Fula Back Catalogue Release Pending.
Rob has spent some time delving into the darkest, dustiest corners of the Fula archive, and the result is a forthcoming back catalogue release. Provisionally called "Songs from Beyond the Merrygolight", it will feature tracks from the very first Fula album "Beyond the Merrygolight" - previously a cassette-only release, and in limited numbers at that! Stand by for more information on this exciting project soon